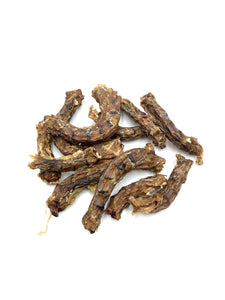 BadtotheBoneKennels
Dehydrated Chicken Necks for Dogs: Chicken Treats, Dog Chews, Chicken Chews for Dogs, Dental Treats for Dogs
Regular price
$10.00
$0.00
Dehydrated Chicken Necks. Naturally clean teeth and support joint health. Washed in Organic Apple Cider vinegar and air dried at a low temperature.
Great chew for both small and large breed dogs.
About 10-11 chicken necks per package. Store in a cool dry place for immediate consumption, or store in the freezer for long-lasting freshness up to 6 months.
---
More from this collection