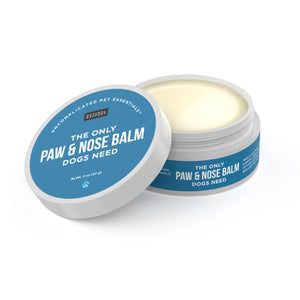 BadtotheBoneKennels
THE ONLY PAW & NOSE BALM DOGS NEED - Paw Butter for Dogs, Nose Butter for Dogs, Paw Balm for Dogs, Nose Balm for Dogs
Regular price
$10.47
Sale price
$14.95
A wise-cracker, eh? Let's set the record straight: there's nothing wise about tender, dry or cracked paws or noses on your pup.  When the pavement is hot, when the ice & salt are not, and when there's rough terrain to trot: our Paw & Nose Balm helps both prevent AND rescue chapped skin with the natural healing powers of shea butter, coconut oil, beeswax, safflower & jojoba seed oils which are known to alleviate your furry friend's vulnerable skin all year round.
We know there are other balm brands out there but what truly makes our Paw & Nose Bam different is this: our fragrance free, safe-to-lick, non-toxic balm is proven to nourish, condition, hydrate, and soothe using the power of plants & contains no nasties we wouldn't use ourselves!
That's what makes us better.
That's what makes us Natural Rapport.  
DIRECTIONS

Apply a thin layer of balm to dog's nose or clean paws and rub in gently. Distract dog to prevent them from licking the product off while allowing a few minutes for the balm to absorb. Use daily until area improves and then as needed for maintenance.
INGREDIENTS
Shea Butter, Coconut Oil, Beeswax, Safflower Seed Oil, Jojoba Seed Oil, Vitamin E
2 oz of product
---
More from this collection