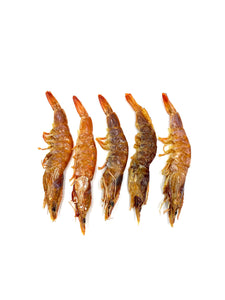 BadtotheBoneKennels
Dehydrated Whole Prawns: Seafood Treats for Dogs, Shrimp Treats for Dogs
Regular price
$16.00
$0.00
Single-ingredient Human Grade Whole Prawns (Shrimp) complete with the whole package: eyes, head, tail, and shell. This snack is super crunchy and is full of essential nutrients including Niacin, Antioxidants, Phosphorus, and more! Supports metabolic and brain health in both cats and dogs. Feed as a treat or add to kibble or raw bowl.
Store in a cool, dark place for immediate consumption or in the freezer for long-lasting freshness.
This listing is for 2 oz of product.
---
More from this collection