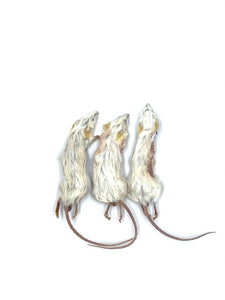 BadtotheBoneKennels
Dehydrated Whole Prey Mice - Whole Prey Diet, Whole Prey Feeding
Regular price
$5.00
Sale price
$10.00
Whole Prey Adult Mice. Washed with Organic Apple Cider Vinegar and dehydrated for 48 hours. Whole Prey is a great option for both dogs and cats. Blood, organs, glands, and intestines all provide a complete and nutritional food source. Fur helps clean, trap, and remove unwanted toxins and debris in the body.
Give 1-2 Whole Prey Mice to your dog or cat once a week or as an occasional treat. Store in a cool, dark place for immediate consumption or in the freezer for long-lasting freshness up to six months.
This listing is for a pack of 3 whole prey adult mice.
---
More from this collection