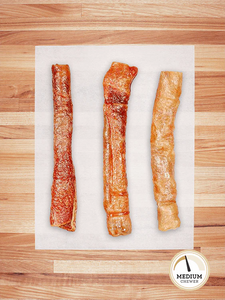 BadtotheBoneKennels
Farm Hounds Bulk Chew: Hog Hide Roll Large - Dental Chews for Dogs, Chews for Pit Bulls, Pork Treats for Dogs
Regular price
$7.99
$0.00
Hog hide contains more fat than other hides, so these chews can have more oil (which dogs go bonkers for).
Great chew for small and medium chewers!
Extra oil gets picky dogs excited about chew time!
Cleans teeth and gums!
On some rolls, you might see a USDA stamp of approval. These stamps are added using edible vegetable dye and are totally safe for your pup to consume.
Large 6"-7"
Safety
All chewing should be supervised, especially when your dog is trying something for the first time. When giving chews that have dehydrated bone, you want to make sure the dog has the jaw strength and patience to chew/crush the bones before consuming. If a sharp edge or inappropriate chewing behavior is ever discovered, we recommend removing the chew for safety reasons.
---
More from this collection